The container garden, which is a collection of window boxes that were attached to the east wall of my home and several pots of vegetables on the patio, were created to increase the amount of growing space and to extend the growing season of some types of vegetables.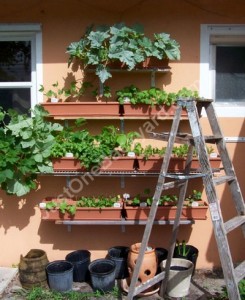 The containers are great for growing vegetables and herbs that don't do so well in the beds and prefer to have their own space. I have found that I can extend the growing season of some things when I grow them in the boxes (such as leaf lettuce) and some pests seem to have a harder time finding them.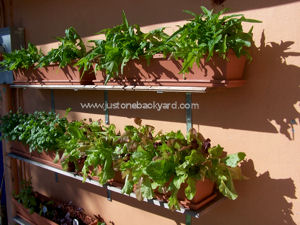 These 22 window boxes and pots cover a relatively small amount of space, but have substantial capacity- equivalent to 50 square feet of garden growing space!
The boxes also shade this hot side of the house, making that wall cooler in the summer. They made that blank wall much more interesting. Planting nasturtiums, cosmos and marigolds make the boxes doubly useful by providing showy flower displays and edible flowers.
To see pictures of what I grew, go to the Archive section at the lower-left side of this page and click on the links.
Some of the vegetables and herbs I grow in my container garden are:
artichoke- globe types
arugula
basil- holy Thai, dark opal, Italian and cinnamon varieties
beans, bush
beets
bok choi (psai tsai)
celery
cilantro- delfino and flat leaf varieties
lettuce, mexclun
leeks
malabar
mint
oregano
parsley
bell pepper- green and red varieties
hot pepper- serrano and jalepeno types
sage
spinach- curled leaf and flat leaf varieties
swiss chard
tarragon
I also grow seedlings in the boxes for transplanting into the garden beds. Some of these are:
broccoli
calalu (amaranth)
cabbage
Napa cabbage
cauliflower
celery
Chinese cabbage
collards
dill
fennel
jicama
leeks
mustard greens
okra
onions
radicchio
tomatoes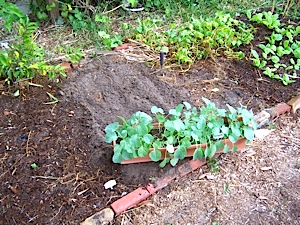 If you are interested in growing in containers, I have provided instructions on this website under the Resources link.